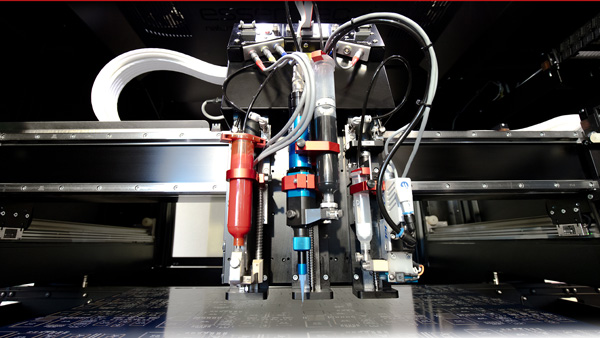 In recent years, dispensing has experienced a renaissance. In addition to new technical requirements, such as the dispensing of support points with adhesive or the 100% dispensing of solder paste, there are many other types of applications that are increasingly finding their way into modern electronics production. In the following case study, a well-known electronics manufacturer from Southern Bavaria presents its view of the possibilities of the dispensing process in its large-scale production.
We manufacture over 300 different devices for customers all over the world. Most of them are custom configured. The hardware options alone comprise over 3,000 different assemblies. The spectrum ranges from mobile radio measuring devices and radio devices for secure communication to solutions for radio monitoring and location. Despite these extremely diverse and technologically demanding production requirements, the plant has evolved into a day factory, based on lean methods and tools. The results, which have been achieved with process optimizations, the systematic use of Heijunka (work planning method), productivity increases at the workstations, improvement ideas from employees and supplier integration, among other things, are impressive. In automatic placement, the lead time in four years was reduced by 85% to 36 hours, the error rate in SMD production was reduced by 75%, while set-up times and batch sizes were further reduced, more than doubling the number of set-ups of machines and systems on the placement line to over 9,000 set-ups per year.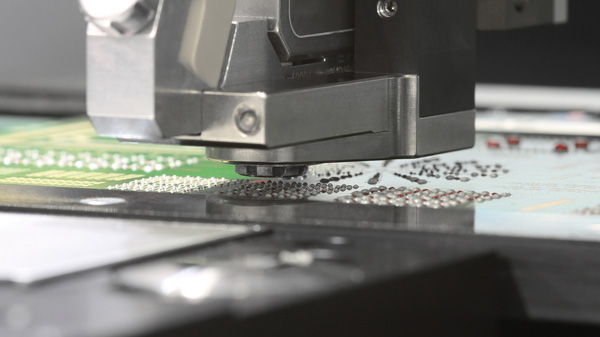 The investment in modern, highly flexible dispenser solutions must also be seen in this light. To date, adhesive dispensing tasks in stencil printers have been handled in the production lines. Now, the additional application of adhesive is in the foreground. In the future, however, the dispensing of solder pastes and additional dispensing options will ensure further process optimization.
Technological developments on modern assemblies have led to new requirements for a combined gluing and soldering process in SMD assembly. The increased demand for these processes should lead to lower production costs through improved automation and ensure high quality. To this end, an automatic dispenser for adhesives, solder paste, and other dispensing processes is to be integrated. A further requirement is that such a system must be industry 4.0 capable and able to communicate horizontally and vertically with existing systems. Due to the extremely small batch sizes, retooling must take place without operator intervention if possible. All processes should be possible on one machine and processed as parallel as possible.
Video All-In-One glue jet dispensing on Pick-and-Place machines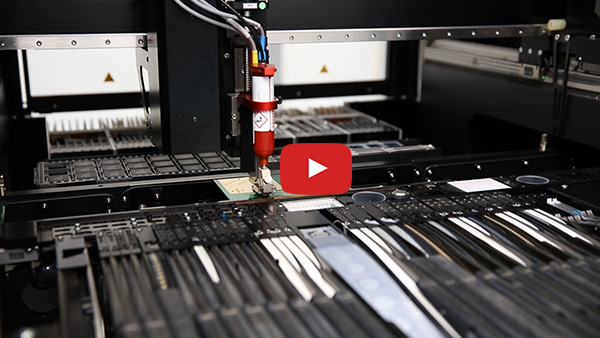 Goals and potentials of such a dispenser should be among others:
| | |
| --- | --- |
| Process step/ Problem | Potential |
| Solder paste preform loading | Replacement of preforms: Cost savings for preforms (reduce feeder positions) / reduce line cycle time / reduce re-soldering work due to errors with preforms |
| 100 % solder paste jet printing for small batch sizes and prototyping for the entire SMD spectrum | Time to market savings and increased flexibility |
| Dispensing of support points and additional fixing of critical components with adhesive | A must in today's manufacturing environment |
| Step stencils for e-pattern | No step stencils for e-pattern and for products with small batch sizes |
| Stages (islands) - Stage to "top" | No stairs for individual critical designs |
| Steps "down" optimal solder paste volume for critical components - Steps "down" | Optimal solder paste volume for critical components |
| Dispensing into cavities - gravure printing | Automation of the process step / saving of a process step / technologically not solvable at the moment (no manual process possible either) |
| PIP components that run on the shaft, because technologically cannot be printed with 45° squeegee | Savings in additional process / tool cost |
| Layout change, change of a construction form or change of the existing template | A new template is not always required / Dispensing of landing areas for preforms |
| Poor solder joints after the reflow process | Automatic re-dispensing / adjustment of solder paste volume directly after the printing process / less reworking of BG (serial error) |
| Poor paste triggering Template -> Error image 3DSPI | Post-dispense paste before placement process |
| Incorrect template (order error, production error) | Production stop can be prevented under certain circumstances / spontaneous reaction to production problems |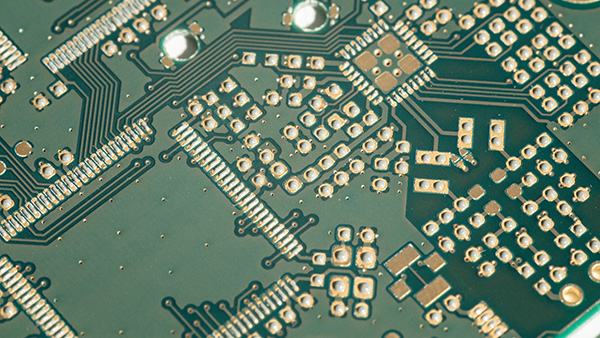 After an intensive market evaluation, the decision was made in favour of the Tarantula from Essemtec. The system was chosen for the following reasons, among others:
For more process and speed flexibility, three dosing processes can be used simultaneously on the same system (e.g. gluing, solder paste, globdot, underfill, etc.).
5 dosing valves are available to optimally cover different applications
Jet speed and excellent process reliability during gluing
Cooperation in the further development of the solder paste jet technology.
Very large printed circuit boards of over 600 mm can be used.
Simplest program generation for all applications
Open platform for the integration of third-party modules
Industry 4.0 expandable
Modular design and future-proof, new development with state-of-the-art technology
3D dispensing with a large stroke
Essemtec as a partner willing to implement new processes together to cover all needs
Production and development of systems in German-speaking countries, short communication channels

The following link will show you an interesting "White Paper" about dispensing: High Speed Jetting of SMD Glue