Picture1: Steve Pollock (President Essemtec US) at the ceremony
Essemtec, the Swiss manufacturer of adaptive highly flexible SMT pick-and-place equipment, elaborate dispenser suitable for both high speed dispensing and micro dispensing as well as an intelligent production material storage and logistic system, announces that their Relentless All Terrain Jet Dispenser, the Tarantula, was awarded Circuits Assembly's New Product Introduction (NPI) Award 2018 at IPC Apex.
The award was presented to the company during a Tuesday, Feb. 27, 2018 ceremony that took place at the San Diego Convention Center during the IPC APEX EXPO in the USA. The system was chosen because of the state-of-the-art technology and it is expandability in all direction. It is designed for a wide range of dispensing applications such as high-speed solder paste and SMT glue, LED encapsulation, silver epoxy, dam and fill, underfill, cavity fill, 3D dispensing via laser height mapping and more.
With advanced dispense technology, the Tarantula can operate up to three dispense valves simultaneously. The system features five different valves with a large application range. A large dispense area can accommodate PCB size 560 x 610 mm, optional 1800 x 610 mm with up to 80 mm (3.35") programmable z stroke. There are five valve technologies to choose from, and with the plug-and-play method, all heads can be retrofitted or changed over on site.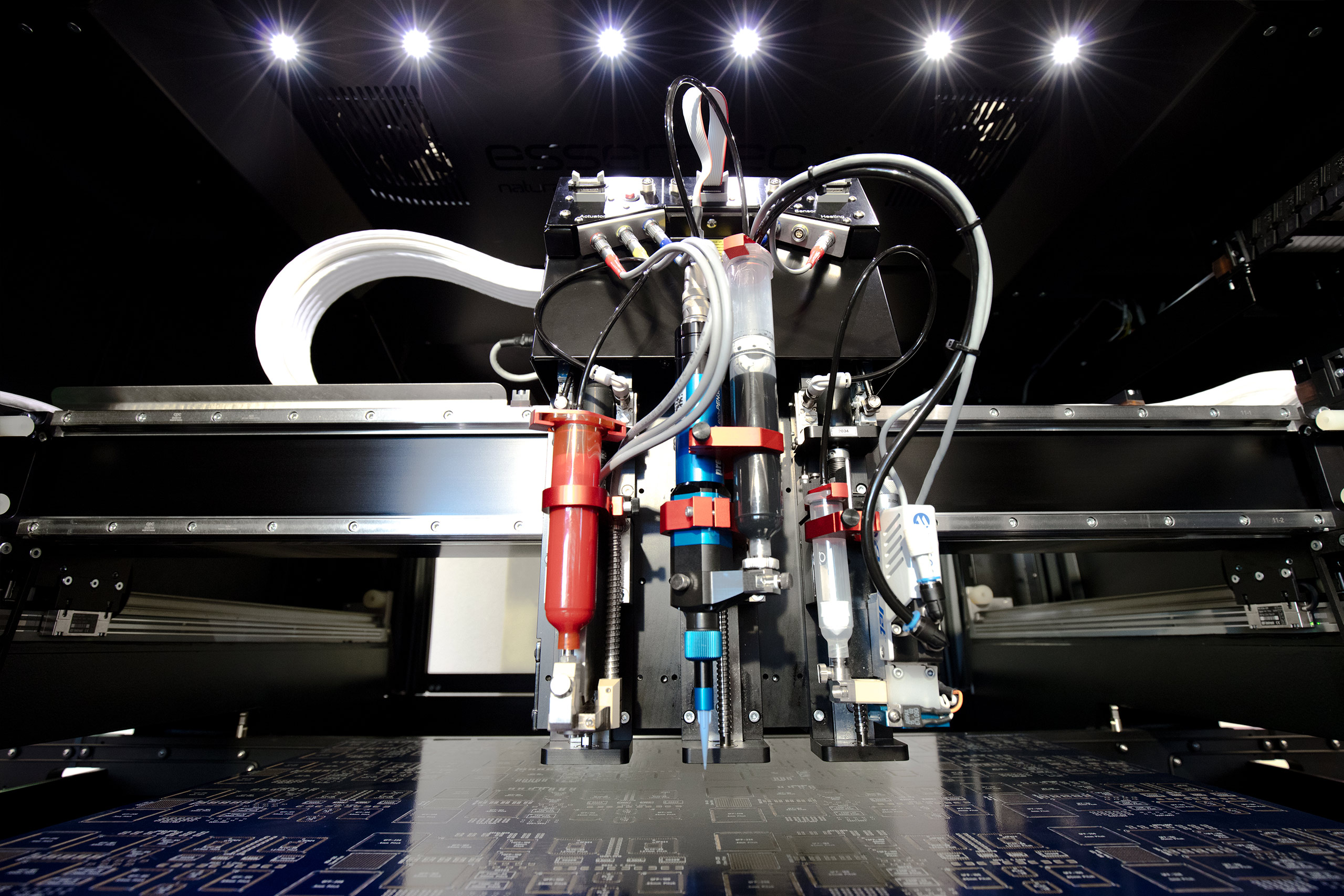 Picture2: Tarantula dispense heads
The newly implemented linear motor technology paired with the material "Epument" for the mineral cast frame gives a speed increase of up to 52.5 percent versus the previous model up to over 140'000 dots/h. The updated vibration absorption through the mineral cast frame guarantees high and consistent accuracy over many years of use. Replacing the traditional spindles and belts with the linear motor technology means the required maintenance is significantly reduced. Additionally, the assembly and dispensing processes are displayed on the same X/Y system.

Picture3: Tarantula Dispenser from Essemtec
The system's software also has been optimized. The clearly structured interface on a large touch screen monitor is as easy to operate as a smart phone. This enables the operator to process both simple assembly groups as well as more complex projects with mixed processes, 2.5D applications and more, direct on the machine. The management can check the efficiency of the machine at any time and Essemtec offers on-line support service.