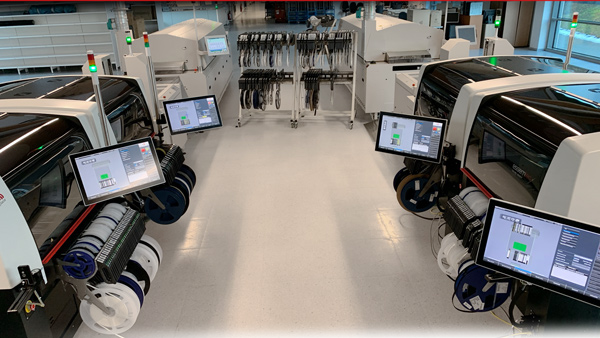 ZIEHL, a manufacturer of electronic devices for modern, reliable measurement and control technology based in Schwäbisch Hall, has invested in four Essemtec Puma pick-and-place systems for its SMT production facility.
The machines were delivered at the beginning of 2021. The purpose of this investment was to replace two older Cobra machines. Despite the coronavirus pandemic, ZIEHL's business is performing well. ZIEHL's investment was motivated by its need for increased production capacity and more feeder places to be able to manufacture new, more complex products.
The two Puma lines each offer 320 8-mm feeder places plus trays and each achieve an optimum pick-and-place output of 36,000 components per hour. Both lines and external programming stations are networked and connected to the ZIEHL ERP system.
Dennis Ziehl, ZIEHL's managing director, remarks: "With this one-off investment, we are ensuring that we can continue to grow and process the latest technologies in the electronics manufacturing sector. Our ties with Essemtec go back a number of years. We're very satisfied with Essemtec's products and customer service. The Puma's high-flexibility concept is ideal for our small to medium-sized production lots."


One of the new double-Puma production lines at Ziehl
____________________________________________________
About ZIEHL industrie-elektronik GmbH + Co KG:
Innovative, future-oriented and renowned for top quality – our electronic devices for industrial plants. With a focus on the highest technical standards, our development and production processes are based on cutting-edge systems and stringent quality management. We are pioneers in electronic devices for modern, reliable measurement and control technology for all requirements – whether for industry, companies, private homes or rented facilities. Our products enable optimal sustainability and energy efficiency with maximum cost effectiveness. Thanks to the highest level of commitment to our customers, we are the ideal partner for business and industry. Our products are 'Made in Germany'.
Our company is certified in accordance with both ISO 9001:2015 and ATEX Directive 2014/34/EU and is regularly inspected in the context of UL-approved devices.