At SMT Nuremberg Essemtec AG introduces, amongst other offerings and as a world premiere, their newest award winning dispensing module Tarantula. The Tarantula is a high-speed dispenser designed for PCBs of 1,800 x 560 mm with a performance of up to 145'000 dots/h. It's also possible for it to run three different processes simultaneously.
Furthermore Essemtec will present Fox and Puma, covering the range from prototype production up to a high-performance line of 50'000 cph. Pick and place and dispensing processes can be run in parallel on both these machines. New technologies and corresponding production solutions will also be debuted based on actual customer's samples.


With its advanced dispense technology the Tarantula runs up to three valves simultaneously. The extensive dispense range offers space for PCB's up to sizes of 560 x 610 mm (1,800 x 610 mm optional) with up to 80 mm (3.35") programmable z-axis hub. There are five different valves technologies to choose from, and with the plug and play method all heads can be changed over or retrofitted on site.

Picture 1: Tarantula interior
The newly implemented linear motor technology together with the applied material "Epument" for the mineral cast chassis enables a speed rise of up to 52,2 % with over 140'000 dots/h compared to the previous version. The improved vibration absorbability of the mineral cast frame guarantees a high and constant accuracy over the length of many years of use. The required maintenance effort is significantly reduced thanks to the exchange of the traditional spindles and belts with the linear motor technology.
Prototyping and high-speed production: Puma and Fox line
The Fox pack is composed of the starter modules Fox1 and Fox2. They cover multi-functional applications with their jet and dispensing heads. But now there's also the Fox4 module; redefining high-performance assembly in this sector.
Customers can start directly with a production line, for example, to assemble 49'600 cph with three modules without sacrificing any of the high-flex prototyping functions and the jetting of solder paste and glue. It's also possible to start with Fox1 and to expand the production over the lifetime of the system in any direction; this is what investment safety means.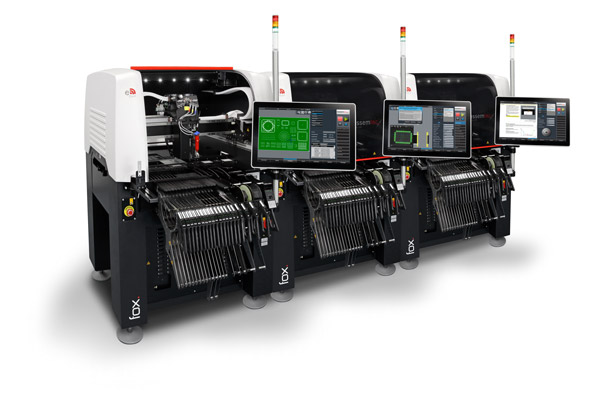 Picture 2: FOX high-speed line
Fox4 achieves an optimal speed of 18'800 cph (referred to IPC 16'100 cph). The high-speed double linear motors, four assembly heads and a new digital high-speed double camera system all combine to make this possible. Four components of up to 12 mm can be measured in parallel, and the machine can optionally handle components up to 80 x 80 mm and 25 mm high. 200 x 8 mm feeders can be inserted in the stand alone version and up 140 feeders in the in-line version. Additionally, there is the option for more space, with palettes over the tray slider, without reducing the number of feeder slots.
At SMT Nuremberg, Essemtec will show a line with the high-performance dispenser Spider together with Fox2 and Fox4. This will demonstrate solder paste jetting, the assembly of the whole component range, 260 x 8 mm feeder positions plus trays, 34'800 cph optimal speed all on just three square metres.
The even more flexible Cubus component storage system
The Cubus is one of the most successful storage systems on the market. The application range is now extended with the possibility to process and store boxes. These boxes can be filled with palettes, bulk components or even small sticks. The intelligent software package ensures that all parts are neatly kept separate.

Picture 3: Unique box system for Cubus to handle palettes and loose material in bags
The storage system processes now also includes reel spindles. With these spindles the simultaneous removal of diverse reels is now possible, and the available space has been increased to 1,540 x 8 mm reels for the Cubus Large.
Customer's applications
In collaboration with their customers Essemtec also presents new technologies and production solutions.
To flux and assemble highly sensitive components in the sensor engineering. Partner and customer is Balluff, Switzerland.
The revolutionary "InMold Structural Electronics" (IMSE™) will be introduced. Partner and customer is TactoTek, Finnland.
To assemble and dispense long LED PCBs. Partner and customer is Mal Effekt, Germany.
Essemtec AG, SMT Nuremberg 2018, hall 4, booth 318.