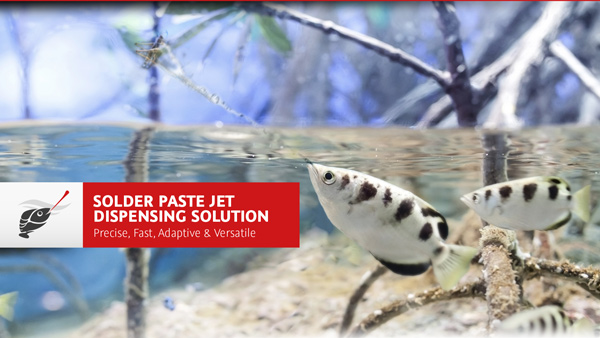 The Archerfish with its "scientific" abilities, speed, precision and cleverness inspired us to develop our solder paste jetting solution.
The Archerfish waylays for its prey in the salty brackish water of the mangrove forests. Just below the water surface, it observes its prey, calculates the refraction of the water jet, calculates the distance and the environment of its target and fires a targeted water jet at its victim. Hit by the jet, the victim falls into the water, where the hunter waits and eats his prey with pleasure.
Just like the Archerfish, the integration of the VDST valve gives our state-of-the-art machine platforms the ability to jet solder paste with dot sizes from 200-800 μm after adjustment of the settings. Precise, fast, like the Archerfish!