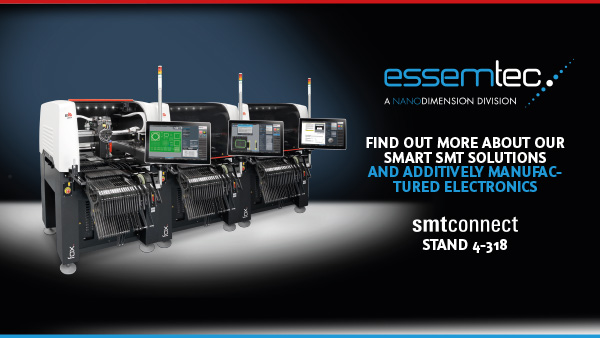 We are pleased to invite you to this year's SMTconnect from May 10-12, 2022, in Nuremberg, Germany. We welcome you to the Essemtec booth 318 in hall 4.
We look forward to showing you the further developments of the dispensing and placement platforms:
Solutions for High Mix-low volume production batches (multi-module lines, fast changeover times, super friendly software)
From NPI/prototype needs to specific dispensing applications needs in the All in One (combined processes) solutions
Expansion in any direction, adaptive from prototyping to High Mix-Low volume production, to follow your business evolution
Printed Electronics platform to produce thin foils and flexible keyboards
New range of offers in cooperation with Nano-Dimension

With ever-decreasing batch sizes and larger setup downtimes, a system designed for the fastest changeover can reach its goal faster than a system designed for the highest placement performance. See more about this at our multi-module line at the booth and let us surprise and inspire you.

We are looking forward to an intensive exchange and exciting discussions with you. Welcome in the world of Essemtec!
Future Packaging Joint Booth – »The Line« at SMTconnect 2022

Visit our Spider Dispenser in the Future Packaging Live production line of the Fraunhofer Institute in Hall 5 - Booth 434. The focus of this year's booth will be on embedding the line concept in a virtual environment. Particularly we will be emphasizing the potential of continuous communication between virtual production processes and their real-life counterparts. Another focus is the move from Industry 4.0 solutions to the digital twin approach.