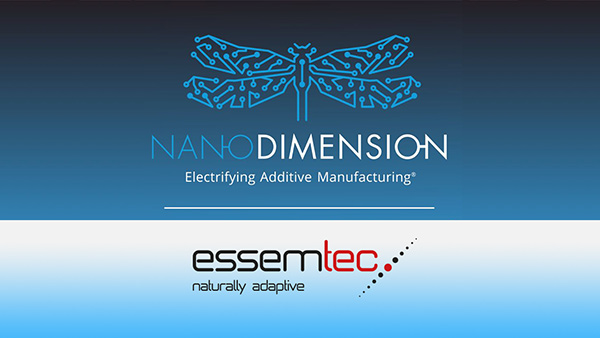 Nasdaq-listed Nano Dimension Ltd. is acquiring the Essemtec Group, which is domiciled in Lucerne's Seetal valley. With the acquisition, Nano Dimension, as an industry leader in the field of additively manufactured printed circuit boards (AME), acquires important know-how in the dispensing and assembly of electronic components. The companies then complement each other ideally in terms of market development. The site in Aesch (LU) is to be continued and expanded.
We would like to inform you that Nano-Dimesion Ltd. (Nasdaq NNDM), an industry-leading provider of additively manufactured electronics (AME), 3D-printed electronics (PE) and micro additive manufacturing (AM), today announced that it has entered into an agreement to acquire Essemtec AG (https://essemtec.com) in Aesch, Canton Lucerne. The Essemtec Group includes subsidiaries in the USA, France and Germany and produces assembly and dispensing machines for electronics manufacturing in the Lucerne Lake Valley with its approximately 100 employees. The development and production site in Aesch is to be continued and expanded.
Essemtec's product portfolio includes production equipment for the placement and assembly of electronic components on printed circuit boards (PCB's). Essemtec is one of the leading companies in highly flexible Pick-& Place- machines for surface mount technology (SMT), advanced dispensers suitable for both high-speed dispensing and micro jetting, and intelligent material storage and logistics systems for production. The products are equipped with a sophisticated software package that enables comprehensive and efficient material management.
Since the introduction of the first machine in 1991, Essemtec's high-tech solutions have been characterized by a high degree of user-friendliness and flexibility to meet customer needs, especially to produce diverse processes and small quantities. These proven Essemtec products will continue to be available to customers. At the same time, customers will also be part of the AME revolution that Nano Dimension is driving with its existing technology.
Franz-Xaver Strüby, Chief Executive Officer of Essemtec stated, "The combination of Nano Dimension's strength in the Americas together with Essemtec's strong presence in Europe creates valuable market development synergies for both parties. Furthermore, I am convinced that this combination of technologies will bring momentum to 3D printed electronics and to electronics manufacturing as such. The Essemtec team, as well as I personally, look forward to continuing our journey as part of the joint Essemtec and Nano Dimension team."
Yoav Stern, Chairman and Chief Executive Officer of Nano Dimension, stated, "The Essemtec scientists and engineers, as well as all other team members who will join Nano Dimension upon closing of the transaction, are leading experts and industry professionals in the fields of mechanical engineering, software, mechanical automation and robotics. They will continue to be led by their current management team, which will be additionally supported by Ziki Peled, COO of Nano Dimension."
The combined knowledge of both companies is an important reason for this merger. Essemtec's products offer customers the ability to upgrade their production equipment in terms of performance and application. Options can be retrofitted on-site to increase productivity.
With the merger of Essemtec with Nano Dimension, the previous investors were able to find a succession solution for the high-tech company Essemtec that is not dependent on any one person, and at the same time secure the Aesch site. The two companies complement each other ideally in terms of technology and sales, so that the merger will help them to tackle future challenges in a stronger position.