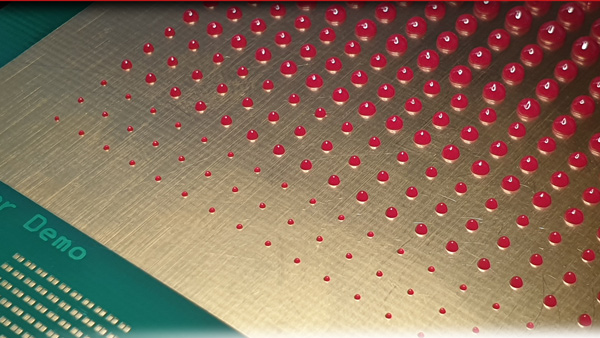 LACROIX Electronics is one of the top European EMS companies, with a number of plants. After intensive evaluation and in-house testing they chose Essemtec to be their partner for their future glue dispensing applications. LACROIX Electronics has the highest demands on process stability and dot quality.
Below we share with you an article written by LACROIX Electronics and published to the market via their website and their in-house magazine.
As the industrial sector seeks to develop smaller and smaller products electronic miniaturisation is a key challenge for companies such as LACROIX Electronics. In-line fitting technologies for surface-mounted components are at the cutting edge, but fitting precision can be difficult to maintain when it comes to components barely visible to the naked eye. This is where our partner Essemtec comes in with its Spider platform for applying droplets of glue to hold miniature components in place with the highest precision.
A successful experiment at our factory in Poland
Using the innovative technology known as jetting, the robot performs a rapid and ultra-precise mechanical action, which projects drops of glue via a syringe. The application of these very small drops of glue supports the components as they pass through the reflow oven in order to retain their fitting precision. This therefore enables LACROIX Electronics to ensure consistent control over the manipulation of fluid materials and to enhance precision for the fitting of miniature components. The Company thus achieves the performance required for microelectronics.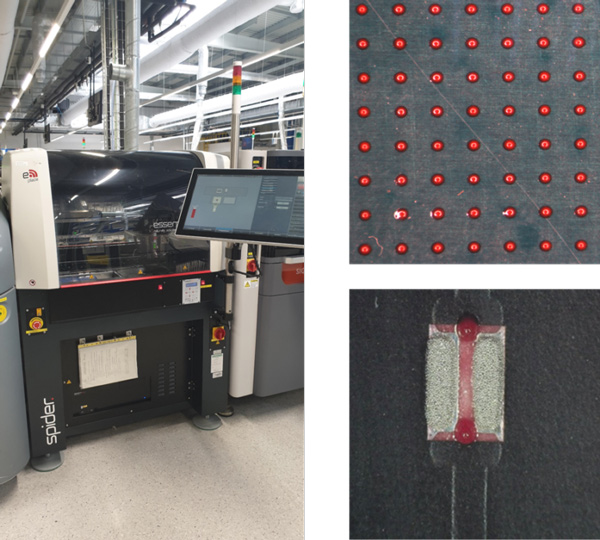 Picture: The Essemtec Spider at the LaCroix production facility in Poland
Strong potential
for aeronautics and industrial IoT markets


Tried and tested for the needs of our automotive customers, we also wish to offer this technological advance to our industrial customers and to the IOT sector, where there is a demand for robust miniaturisation.
Dominique Laurgeau l Equipments & Process Manager at LACROIX Electronics
Furthermore, the value created by industrial IoT items comes directly from the sensors, so it is important that these are perfectly fitted in order to record the required data in optimal fashion.
Connected high-precision solutions; a technology for the future
Following a training course given by Essemtec, LACROIX Electronics can now easily create programmes to connect the machine to the entire digital chain system. Interconnecting production systems in this way enables the establishment of a continuous link between data related to design, manufacture, inspection and testing.
So this is only the beginning for this technology, which has a bright future at LACROIX Electronics!
Testimonials


"Following the very successful validation by our Polish factory the target is to deploy this technology throughout the LaCroix operation. This technology will first be implemented in our Tunisian production plant, then in our new electronics factory, "Symbiose", which is set to open in France in 2021."
Benjamin Gauchenot l VP Operations & Quality at LACROIX Electronics


"The Essemtec Spider Dispenser is an extremely efficient high-precision machine. From the first use we could easily double our drops of glue per hour capacity and meet the high-quality requirements of our customers."
Andrzej Wróblewski l Process Engineering Manager at LACROIX Electronics Poland


"The glue application solution provided by Essemtec has successfully met the technological challenges set by LACROIX Electronics. The teams worked together on Essemtec's Spider platform. They adopted a collaborative approach, oriented at all times towards the resolution of technical issues. We demonstrated our abilities to address the challenges faced by LACROIX Electronics, a key EMS player in Europe, and we want to thank LACROIX Electronics for recognising the effectiveness of our technical solution."
Franck Genonceau l Western Europe Commercial Affairs Officer at Essemtec
________________________________________
More about LaCroix Electronics
Article on the LACROIX Electronics Website www.lacroix-electronics.com/smart-stories/offer-en/miniaturisation-is-being-supported-by-the-rise-of-new-technologies-such-as-jetting-lets-find-out-more/