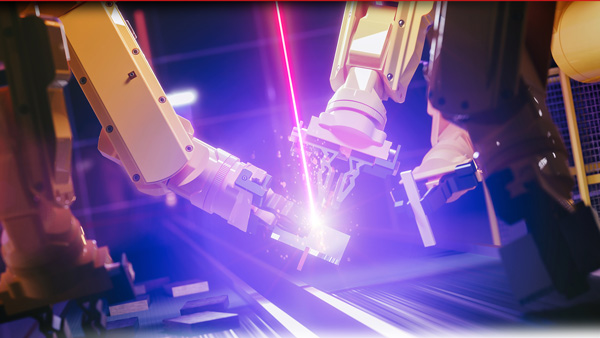 Prototype and small batch production at engineering offices as well at as high volume producers are increasingly subject to enormous time pressures. The "time-to-market" factor is a decisive for success in today's market. It's not just the production time that is critical, but the fastest reaction time too. Corrections, adjustments and process problems need to be addressed immediately.
It's for these reasons that the innovative development company Dieter Richrath Elektronik has invested in a Fox placement machine with an integrated high-tech solder jet printing functionality along with the automated SMD reel material system, Cubus. We spoke to Jan Ingenhag from Dieter Richrath about his experience with this new all-in-one solution.
Essemtec: Mr. Ingenhag, As a small SME, what made Dieter Richrath invest in this technology?
Jan Ingenhag: We invested in our own SMT production many years ago. This has helped us to significantly improve the "time-to-market" factor. Today, however, we have the problem that the products are becoming more and more complex and the customer expects even faster delivery of samples. The "Time-to-market" must be faster still.
Essemtec: How did you achieved this?
Jan Ingenhag: With the integration of the latest Essemtec technology in the Fox2 machine and the new component feeders, we are now at the cutting edge of technology and equipped for the future. Previously the stencil printing still had to be optimised, as we were always dependent on the lead-times of the stencil manufacturers and, technologically, we had reached the limit too.
With new products there are always several revisions, which must be implemented immediately from the development department directly onto the product in as short a time as possible. With the newly integrated Solder Paste Jet Printer on the Essemtec Fox we can now react immediately, as we can jet the changes without any delay. The repeatability of the processes is also extremely important and so with the Fox and the solder jet printing we have made a giant step forward.
The second problem was our material storage, which, as with many companies, was a bit chaotic. Often you had to search for a long time for material and sometimes it couldn't be found at all. With the automatic and integrated material management alongside Cubus we now have a solution where we know where the material is at all times, as well as in what quantity, and it is automatically retrieved at the push of a button. We now no longer spend time looking for material.
We are always struggling for space. The fact that we could implement such an all-in-one solution in one square metre inspired us, and was a further benefit for Dieter Richrath. With Cubus space was also saved in the material warehouse.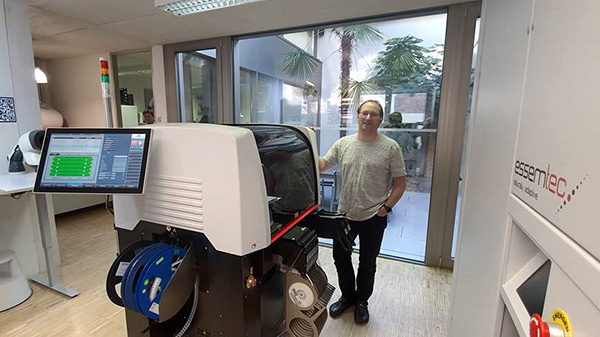 Picture: Jan Ingenhag, Executive Assistant, in front of the new Fox All-In-One
Essemtec: The solder paste Jet Printer is a world premier and you are one of the first users. What can you tell about the process after six months?
Jan Ingenhag: Such an early commitment, we bought this solution at Productronica 2019, requires a lot of trust in the supplier. We had this through our longstanding co-operation with Essemtec.
We have now been in production for six months. At the beginning we optimised some things, because these are possibilities within the Jet Valve / Fox. For example, the optimal solder paste was critical for us. The Jet process is fascinating and we are absolutely convinced. It is the simplest of jobs to create programme by taking over the encoder file with just a few clicks; the quality of the jet process and the enormous additional flexibility has really brought us forward. We can now react much faster and so have the products at our customers much faster too. This gives us a market advantage.
We are now jetting products for medical technology with a high-quality level, which we could previously only realise with great effort on the stencil printer.
In summary, I can say that this was the right decision and that we have a very good partner in Essemtec.
Many thanks Mr. Ingenhag for the interview!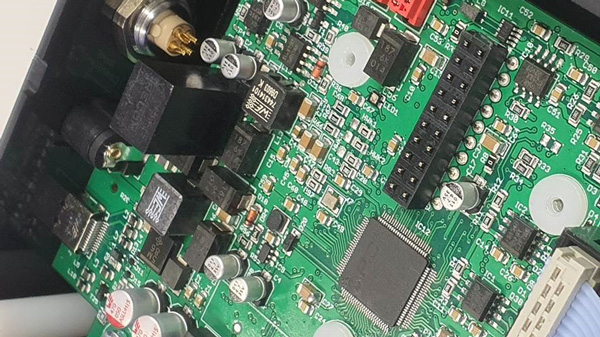 Video - Unique Archerfish Solution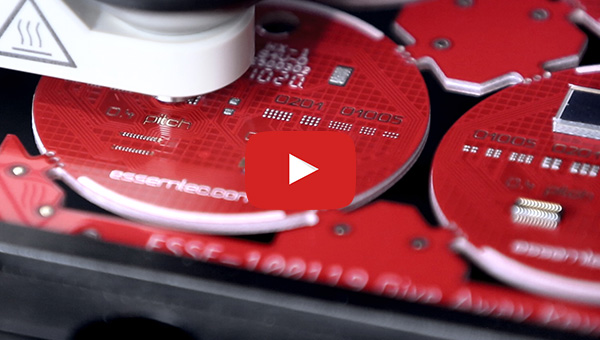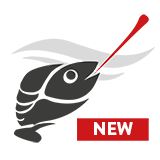 ____________________________________
About Dieter Richrath GmbH:
Dieter Richrath GmbH is a classic SME company based in the heart of Cologne's Schanzenviertel. Since 1987, when it was founded by Mr. D. Richrath, we have been supporting our partners with our broad-based expertise. According to the principle "everything from a single source", we offer our customers the development of hardware and software, including accompanying EMC consulting, which we can safeguard with a wide range of test equipment. We cover the production from prototypes up to medium series and can also guarantee high quality here with our modern machinery. All this is of course secured by certification according to ISO 9001:2015.
Our customers appreciate us as an experienced and reliable partner, who is also highly flexible in developing innovative products. We are particularly characterised by a high diversity in the specialist areas.

Currently the company D. Richrath is active in the following specialist areas:
Measurement and control engineering
Safety engineering
Medical Technology
Laboratory equipment technology
Automation of industrial plants