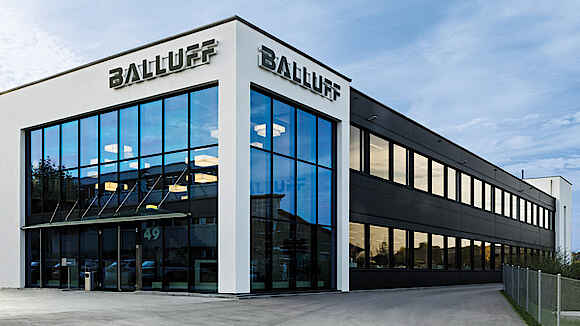 The principle in sensor technology is to pack more and more intelligence in spaces that become progressively smaller. Balluff is a market leader in high-quality sensor, identification and network solutions, as well as software for integrated system solutions in all fields of automation. The Balluff production site in Switzerland evaluates assembly systems, that meet the highest SMT production technology challenges when mounting the sensors of today and tomorrow. Fluxing and dipping have become important criteria; Essemtec has supported Balluff in this process.
The pick and place systems at Balluff could not keep pace with the increasing demands. Until recently the dipping process was addressed with a large-scale squeegee system. But this generated more and more quality problems with components and ball sizes that have become progressively smaller and smaller; they started a market evaluation.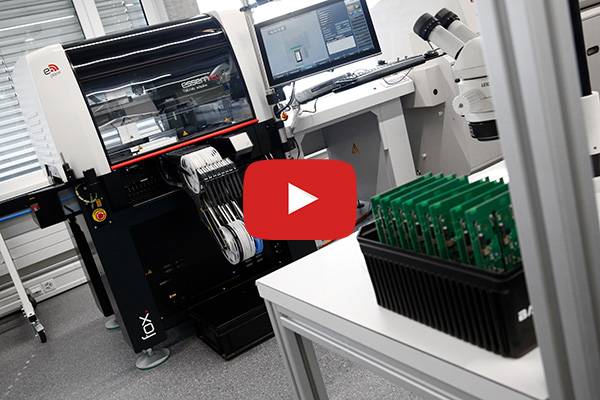 The focus was on the flux system or rather the dipping station for intelligent micro controllers. Both stencil printers and spray fluxers are no longer eligible in this "micro ball attachment" process, with its high process accuracy demands.
The following conditions were laid down:

Technical


Process

Mounting component types uBGA, FlipChip, CSP, QFN with the dipping method Ball diameter 0,2 mm +/-
Component height > 0.0 mm
Min. pitch > 0,3 mm


Provider must deliver complete system including production safe process.

Several different components must be processed on the same circuit in relation to the dipping process.

Varying dipping depths must be run simultaneously.

Balluff specific medium

Balluff certified

Flux height of the ball:
1/4 - 2/3 of the ball diameter

Flux height must be +/- 5 μm exact

The flux nests have to be exchangeable. The machine must automatically detect over a coding if the accurate board is used.

Process interlock

The fluxer can be used like a feeder. The machine and the machine construction must be designed in a manner that no vibration is transferred to the flux feeder.

Easiest integration of the dipping process on a standard pick and place machine.

The dipping nests must be clean and must be filled without medium washing outs.

Especially the milling resistance in connection with the flux process has to be examined and optimised within the squeegee process.
They quickly recognised that only a flex-squeegee system would meet these high requirements. Essemtec, together with a partner company, developed a complementary system that can be integrated on a standard FOX pick and place machine. The hardware and software integration were implemented in co-operation with Balluff. The process has been analysed and was developed and introduced in conjunction with Balluff.
Extremely accurate boards with nest for the precise flux application are necessary. The nests have selectable depths of between 50 to 100 μm. The boards have an additional depth tolerance of +/- 5 μm to guarantee the meticulous application of the flux material and wetting of the micro ball process is safe.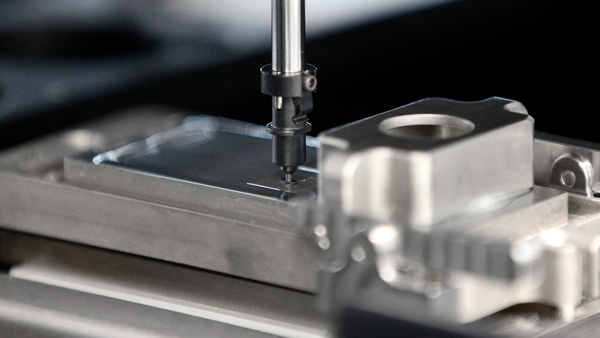 A squeegee unit filled with a flux deposit now runs over the dipping nest and fills it with the medium. The SMD components are keyed in the dictated depth. A laser measures the Z height to trigger the exact zero level of the component. A specially developed pick, dip and place algorithm ensures that the inward speed and the dwell time in the flux are scalable.
Furthermore, there are different built in security measurements to ensure that no assembly head without component ever runs into the flux medium. Also, a post dipping component control has been generated, in this way it's guaranteed that all components have been correctly wetted and does not show any damage, meaning that the flux process was a clean run and all "balls" are in place.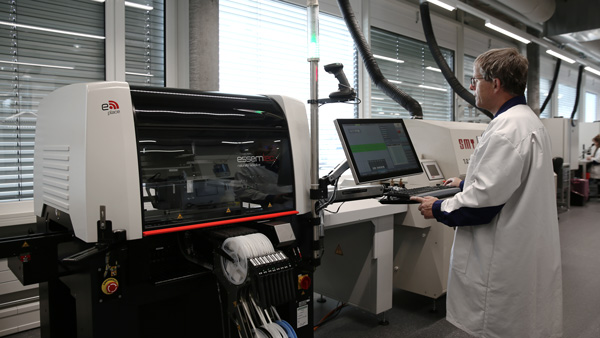 Finally, Balluff decided upon a FOX from Essemtec, with its newly developed flux system. The clincher was that Essemtec presented the most coherent solution during the pre-project and that FOX is perfectly suited for such applications. Also important to Balluff was to have a partner with whom they could collaborate with to develop the system and the processes. Since commissioning in summer 2018 many thousands of circuits of very high quality have been already successfully produced.
Additionally, the possibility of integrated warehouse logistics was proposed during evaluation. An automated, integrated storage system is of high added value for Balluff. Up to 1'000 storage positions for SMD reels on 1.5 m2 allows a quick set up without long searches for the right components. It guarantees that the right material is at the right place at the right time. Production downtime due to missing material, or a complex set up process, is reduced by 60%. These solutions led to a further investment in the automated SMD component storage system 'Cubus' from Essemtec.
__________________________________________________
About Balluff Group:
Balluff is a medium-sized company. Family-run for four generations, it was founded in Neuhausen on the Filder near Stuttgart (DE) and has grown into a world-oriented, leading global player. It is a company with tradition and customer relationships established over years, which acts simultaneously as an important partner in innovations and as a pacesetter for its customers. With 3'600 employees Balluff stands worldwide for innovative techniques, quality and maximal customer orientation. As the leading provider for industrial automation the family business owns an extensive portfolio for both high-quality sensors as well as system and customer specific solutions. Balluff masters the whole technological diversity with every sensor principles and ensures efficient processes in the total automation. Beside the central head quarter in Neuhausen auf den Fildern Balluff has production and development sites as well as 68 international branches and representatives all around the globe.



About Balluff Switzerland AG:
Balluff AG is an internationally operating technology company in Bellmund near Biel (CH). As a competence centre it is responsible for the development, industrialisation, production and distribution of sensors and industry automation system. Balluff AG is a subsidiary of the German Balluff group. www.balluff.ch